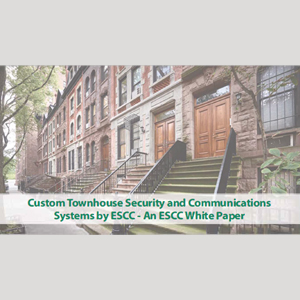 New York, N.Y – As an industry leader in townhouse security and communications systems, ESCC is continuing its presence with ever-more sophisticated installations in today's new or renovated NYC townhomes. As townhouse owners become increasingly sophisticated in their home technology needs, ESCC is meeting and exceeding these expectations in all of its installations. Working closely with architects and designers to meet the increasingly sophisticated needs of today's homeowner, ESCC understands that technology is changing the way people live, work and play while either in or away from their homes. Many Systems, One Integration Acting in both a system-design as well as hardware installation capacity, ESCC designs, installs and integrates the entire network of security and communications systems in every Townhouse we secure. Included in our integrations are essential security and communications components such as Access Control Systems , IP-based CCTV, IP-based Telephone Systems, Keyless Entry Systems, Mobile Access Technology, Motion Detection, Perimeter Security, Intercom Systems as well as 24/7/365 Monitoring Services.
Because of the wide-range of the security and communications systems installed, ESCC emphasizes system integration as a critical component of our townhouse projects. This, in turn, helps to ensure that our security and communications systems work together as a seamless, cohesive network. For all of our Townhouse projects, this not only improves security and communications but gives homeowners the peace-of-mind that comes with knowing that their home is secured with the best security and communications solutions in the industry.
ABOUT ESCC ESCC has led the way in integrated security and communications applications for commercial properties, high-end residential properties, and new development projects for over 30 years. As a full-service security and communications provider, ESCC offers a powerful combination of design, engineering and installation services as well as post-installation support to meet today's on-going security and communications challenges.