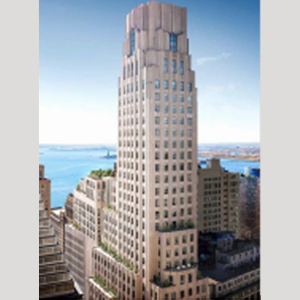 New York, N.Y – Following the successful design of the entirety of the integrated security and communications systems at One Wall Street – one of Manhattan's largest office-to-residential conversions – ESCC is proud to announce it has subsequently been chosen to provide the installation and integration of these systems at the 50-story art-deco landmark building in NYC's Financial District.
At 944,000 SF, One Wall Street is currently undergoing a top-to-bottom gut renovation by Macklowe Properties, who are converting the former office tower to a 566-unit luxury residential and retail complex.
The trophy tower has been entrusted to ESCC to oversee the installation and integration of all security and communications systems within the development. Included in this are leading-edge security and communications services such as Access Control Systems, IP-Based CCTV, Back of House (BOH) Communications Systems, Elevator Control Systems, IP-Based Telephone Systems, Intercom Systems as well as A/V Systems for nearly 100,000 SF of amenity space throughout the building.
Says Robert Horowitz, President of ESCC, "One Wall Street offers us a unique chance to showcase ESCC's experience when working on projects of this scale" he says. "One Wall Street not only boasts 566 residential units across more than 50 stories, but the volume of amenity areas is remarkable. The varied types of uses for the space provides an excellent example of how our design team works in tandem with our installation teams to tackle virtually any non-traditional building interior."
With the completion of One Wall Street's redevelopment scheduled for 2020, ESCC is helping to ensure that the integrated security and communications systems it has designed, installed and integrated for One Wall Street will keep both its residents and management safe, secured, and protected for years to come.
ABOUT ESCC
ESCC has led the way in integrated security and communications applications for commercial properties, high-end residential properties, and new development projects for over 30 years. As a full-service security and communications provider, ESCC offers a powerful combination of design, engineering and installation services as well as post-installation support to meet today's on-going security and communications challenges.