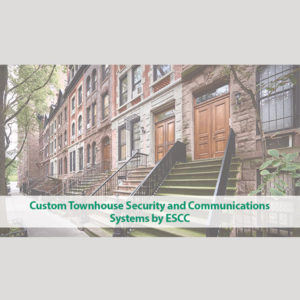 New York, NY – ESCC has been designing and installing comprehensive security and communications systems for some of the finest townhomes for over 30 years.
As providers of custom designed and integrated solu­tions for luxury residential homes, ESCC prides itself on being at the forefront of security and communications for townhomes as the needs of these residences continue to evolve.
Says Robert Horowitz, President of ESCC, "At ESCC we un­derstand that not only is every home unique but so are the families occupying them. ESCC believes in providing sophisticated security and communications systems for townhomes solutions built not just around the design of the home but just as important, the lifestyle of the families within that home."
ESCC provides custom residential security services such as Perimeter Security, IP CCTV, Home Intercom Systems, loT Technology, Mobile Access Technology, Low Voltage Cabling and Telecommunications Systems.
Click Here to Continue Reading ESCC's Leading-Edge Security and Communications Systems for Townhomes.
ABOUT ESCC
ESCC has led the way in integrated security and communications applications for commercial properties, high-end residential properties, and new development projects for over 30 years. As a full-service security and communications provider, ESCC offers a powerful combination of design, engineering and installation services as well as post-installation support to meet today's on-going security and communications challenges.