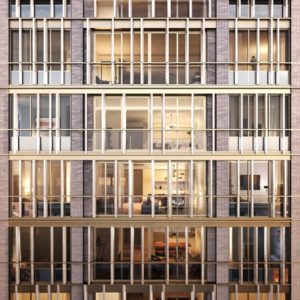 New York, NY – ESCC is nearing completion of a fully integrated security and communications system design and installation at 1 Great Jones Alley in Manhattan's fashionable NoHo district.
The BKSK designed 12-story luxury condominium building (formerly known as 688 Broadway) is located on historic Great Jones Street – a once gritty side street that later turned into one of the epicenters of New York City's artistic community. With notable residents who lived in the area such as Andy Warhol, Jean-Michel Basquiat and Keith Haring, 1 Great Jones Alley was designed to stay in keeping with the look and feel of the surrounding neighborhood.
Says Robert Horowitz, President of ESSC, "1 Great Jones Alley is yet another development that emphasizes being discrete to conform to its surrounding area. In a neighborhood that has fostered such historic creativity it is important that the look and feel of the building is in keeping with the existing architecture of the neighborhood. ESCC's security and communications systems are designed to conform to just these sort of nuanced architectural demands."
Integrated Security and Communications Systems for a Discrete Location
Indeed, while the architecture at 1 Great Jones Alley may emphasize discretion, ESCC's security and communications systems were designed to be both low-profile and "out-of-the-way" – all without sacrificing the gold-standard quality that ESCC is known for.
At 1 Great Jones Alley ESCC designed and installed: Access Control systems, IP-Based Video Camera systems, Elevator Access Control systems, Back-of-House (BOH) Communications systems, Perimeter Security, as well as well as an Integrated Intercom system.
Says Horowitz, "As the units at 1 Great Jones Alley aren't traditional door-entry apartments and instead have elevator access from the street level, ESCC was handed an interesting opportunity to showcase our elevator access control systems to provide seamless exit and entry to the units. Our ability to integrate our systems around the elevator access control system was a differentiating aspect of the project in which ESCC was able to both meet and exceed expectations."
Secure Living in NoHo
As 1 Great Jones Alley starts to fill up with new residents, each unit will be waiting for them with the latest in security and communications systems.
Says Horowitz, "1 Great Jones Alley allowed us to showcase the best-in-class security and communications that ESCC takes pride in. These ultra-luxury residences demand both safety and security in a way that is low profile enough to go unnoticed yet sophisticated enough to meet the highest level of security and communications challenges. ESCC was honored to provide our services that in turn give their residents the peace-of-mind that comes with knowing that their building is secure and online 24/7/365."
ABOUT ESCC
ESCC has led the way in integrated security and communications applications for commercial properties, high-end residential properties, and new development projects for over 30 years. As a full-service security and communications provider, ESCC offers a powerful combination of design, engineering and installation services as well as post-installation support to meet today's on-going security and communications challenges.