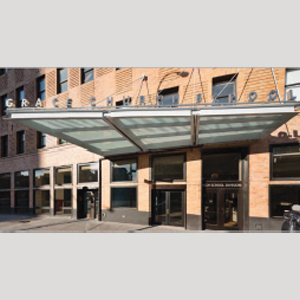 New York, N.Y – ESCC has recently completed new Access Control Systems for the new high school facility at Grace Church School – a 780+ student Pre-K-12 school in Manhattan's East Village.
Grace Church School (GCS) is a 125-year-old elite private school committed to the highest levels of educational standards while also espousing the best principals of civic responsibility and social justice to its students.
Notably, GCS has recently completed a several story state-of-the-art new educational facility including a top-floor, sound proof gymnasium located near their current, historically land-marked building.
Says Robert Horowitz, President of ESCC, "As GCS celebrates 125 years in the community, they are also continuing their commitment to education in the area with a new building for their students and staff. For ESCC, our ability to provide Access Control Systems for their newest development is both an honor and privilege."
Continues Horowitz, "With this new chapter in the school's history, ESCC is committed to ensuring the safety and security for the current and next generation of GCS students, family members and staff for years to come."
ABOUT ESCC
ESCC has led the way in integrated security and communications applications for commercial properties, high-end residential properties, and new development projects for over 30 years. As a full-service security and communications provider, ESCC offers a powerful combination of design, engineering and installation services as well as post-installation support to meet today's on-going security and communications challenges.