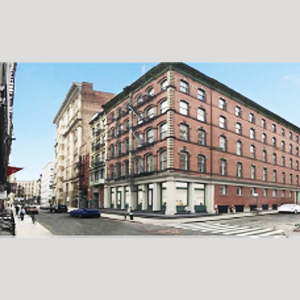 New York, N.Y – ESCC has been hired to provide security and access control systems at a brand new, gut renovated office space building at 30-32 Howard Street in NYC's bustling SoHo neighborhood. The side by side properties are to be redeveloped by K Property Group (KPG). The adjoining buildings, which are to be combined, will have both office and retail components in the 19th- century "cast-iron" style that defines the area architecturally. The development, called "Howard X Crosby" boasts high ceilings, new windows, an updated lobby and soon to be built penthouse suite. Says Greg Kraut, Managing Partner of KPG, "30-32 Howard Street is an amazing opportunity to create updated, bespoke office spaces and retail in one of NYC's most vibrant areas. KPG is looking forward to building a truly unique space for office and retail in historic SoHo while preserving the existing architecture of the neighborhood." Updated Office and Retail In the Heart of Lower SoHo ESCC has been picked to design and install various security and communications systems at the location including Access Control, IP-CCTV, Building Intercom System and infrastructure Voice/Data cabling.
As an office and retail development, ESCC is focusing on the needs of the employees and management staff when designing the access control system. Says Robert Horowitz, President of ESCC: "Our commitment to office developments with historic value is something we care about greatly. Our ability to service landmarked NYC properties is something we take to heart. With the new development by KPG, ESCC continues our tradition of securing some of NYC's most unique and architecturally significant properties in the NYC area".
ABOUT ESCC ESCC has led the way in integrated security and communications applications for commercial properties, high-end residential properties, and new development projects for over 30 years. As a full-service security and communications provider, ESCC offers a powerful combination of design, engineering and installation services as well as post-installation support to meet today's on-going security and communications challenges.