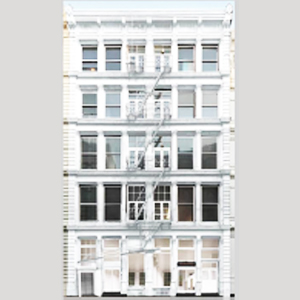 New York, N.Y – ESCC has been hired to secure a brand new, gut-renovated office space building at 446-448 Broadway in NYC's SoHo neighborhood. The property is to be redeveloped by K Property Group (KPG) and Intercontinental Real Estate Corporation.
The building – which is among the rarest redevelopment opportunities in the area – will have both office and retail components within the classic 19th century architecture. The property, built in 1877 by Architect John Butler Snook, will be replete with high ceilings, new windows, an updated lobby and soon to be built penthouse suite.
Says Greg Kraut, Managing Partner of KPG, "446-448 Broadway is a wonderful opportunity to redevelop one of NYC's few remaining "cast-iron" properties. KPG is looking to complete this development to stay in keeping with the heart and soul of the downtown area."
Keeping SoHo  "SoHo" With New Security and Communications Systems
ESCC has been picked to design and install various security and communications systems at the location including Access Control, IP-CCTV, Building Intercom System and, Voice/Data infrastructure cabling.
Says Robert Horowitz, President of ESCC "As the area of SoHo continues to develop, it is of value to our team to respect the look and feel of the neighborhood. KPG picked ESCC to keep the historic value of the property intact as well as to provide discrete security and communications systems."
Says Horowitz, "ESCC has a commitment to securing properties in the SoHo area. 446-448 Broadway is yet another renovation that we proud to be a part
of."
ABOUT ESCC
ESCC has led the way in integrated security and communications applications for commercial properties, high-end residential properties, and new development projects for over 30 years. As a full-service security and communications provider, ESCC offers a powerful combination of design, engineering and installation services as well as post-installation support to meet today's on-going security and communications challenges.