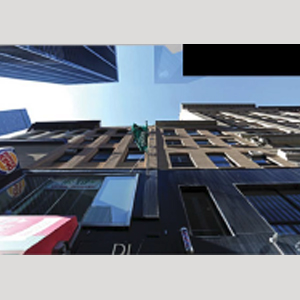 New York, N.Y – Leading the way in new design in the heart of NYC's financial district, 112 Liberty Street is soon lo become a destination for a modem luxury hotel development. The parcel, designed by Stonehill & Taylor Architects, is set to become a 30-story hotel operated by AC Marriott. Says Robert Horowitz, President of ESCC, "112 Liberty is characteristic of the new kind of luxury hotel developments that are modernizing downtown. With this increase in development and as more tourists and business travelers look to the area as a destination location, there is a need to ensure their security and safety with discrete yet sophisticated security and communications systems. In the case of 112 Liberty Street, ESCC is set to accomplished exactly that." A New Hotel for a New Financial District ESCC has been hired to design and install various security and communications systems at the hotel including Access Control, IP-CCTV, Guest Room TV/Data and Voice services, Voice and data systems for amenity spaces, as well as infrastructure cabling to help integrate these systems throughout the building.
Because of the nature of the building as a hotel property, access control and IP-based CCTV are essential to the build-out. Says Horowitz "As luxury hotel developments by design have a high rate of transient guests it is important that a seamless access control system is in place to ensure smooth entry and ensure safety for staff and guests alike." He continues "An IP-based CCTV system also helps secure the interior and perimeter of the building to help prevent unauthorized access and monitor the area in real-time." With ESCC's access control and monitoring systems, employees and guests at the AC Marriott can rest assured that they can feel safe and secure.
ABOUT ESCC ESCC has led the way in integrated security and communications applications for commercial properties, high-end residential properties, and new development projects for over 30 years. As a full-service security and communications provider, ESCC offers a powerful combination of design, engineering and installation services as well as post-installation support to meet today's on-going security and communications challenges.