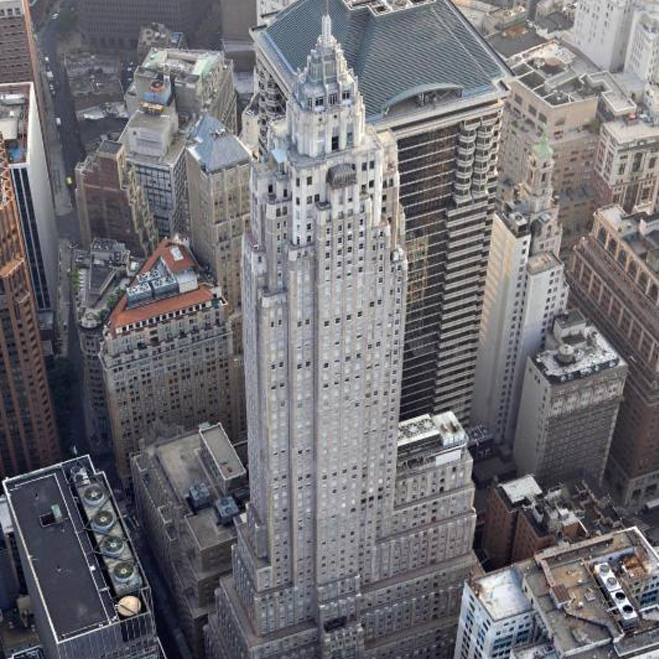 New York, NY – Based in the heart of New York's Financial District, ESCC is providing integrated security and communications systems at The Q&A Hotel. The Hotel offers extended-stay living in stunningly designed apartments for today's sophisticated traveler. Unlike hotels that house guests for short periods of time, the Q&A Hotel is a top attraction for those who travel to New York City and want all the qualities of a full-sized, furnished apartment for a longer stay than traditional hotels normally accommodate.
Occupying four exclusive floors of 70 Pine – a recently redeveloped, 66-story luxury residential tower in the Manhattan's Financial District – The Q&A called on ESCC to modernize the landmarked, Art Deco building with state-of-the-art Access Control Systems, IP-based CCTV, Elevator Access Control Systems and Wireless Door Locking Systems for the hotel's 132 units. No small order in itself, the hotel also needed to allow the new network to function with minimal interference to the existing security and communications systems already in place.
To solve this problem, ESCC was able to integrate its security and communications systems to operate with the existing infrastructure within the residential portion of the building – thereby integrating the two networks into one and allowing for ease of movement for both hotel guests and permanent residents.
Further challenges would lay ahead. Unlike most residential buildings, modern hotels such as the Q&A have a high volume of entry and movement within the building, creating a strain on traditional security systems that handle much less volume than that of a typical hotel. ESCC met and overcame these challenges by utilizing some of the latest and smartest in security and communications hardware and software to keep up with the high demand and constant stream of information that hotels like the Q&A necessitate.
Thanks to ESCC, the Q&A can comfortably operate within 70 Pine making for a safe, secure and pleasant experience for the Q&A Hotel's guests and building residents alike.
ABOUT ESCC
ESCC has led the way in integrated security and communications applications for commercial properties, high-end residential properties, and new development projects for over 30 years. As a full-service security and communications provider, ESCC offers a powerful combination of design, engineering and installation services as well as post-installation support to meet today's on-going security and communications challenges.