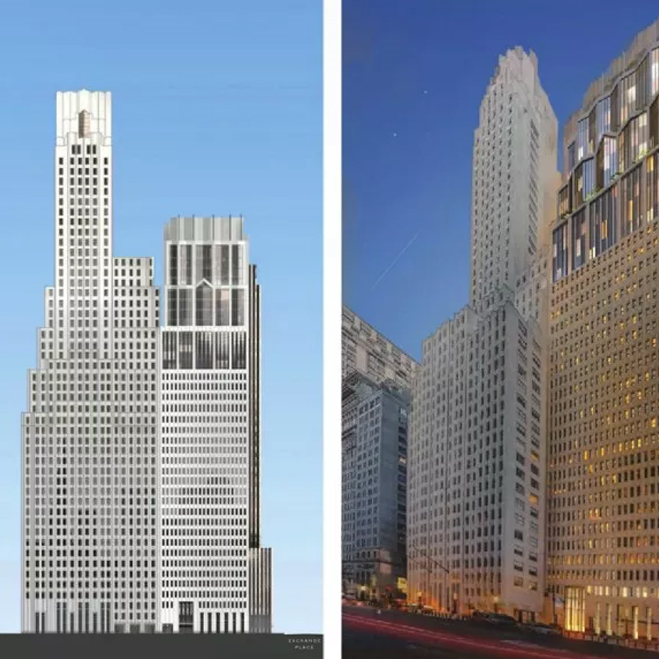 New York, NY – One Wall Street is a landmark, fifty-story limestone Art Deco tower located in the Financial District of Manhattan. Built in 1931, this property is host to one-of-a-kind Art Deco interiors and holds a commanding presence on the New York Skyline. This storied building is located on the corner of Broadway and Wall Street and sits directly east of the world-famous New York Stock Exchange. At 985,000 SF with an additional 165,000 SF of commercial space, ESCC has been entrusted to oversee the design of all security and communications systems within the development.
In continuation with this impressive history, the tower is now undergoing a massive, top-to-bottom gut renovation by Macklowe Properties, who are converting the former office tower into a 566-unit luxury condominium and retail complex.
ESCC has been selected for the design of all security and communications systems within the development. Included in this are leading-edge integrated security and communications systems including Access Control Systems, IP-Based CCTV, Wireless Entry Locks and Elevator Control Systems to run throughout the building as discreetly as possible.
Indeed, ESCC is aware that today's luxury residential developer prefers a subtle approach when implementing security and communications systems. With this in mind, ESCC utilizes state-of-the-art technology that is not only sophisticated but sleek in its design and implementation.
With the completion of One Wall Street's redevelopment several years away, ESCC is helping to ensure that the systems it has designed for the luxury tower will keep both its residents and management safe, secure and protected for years to come.
ABOUT ESCC
ESCC has led the way in integrated security and communications applications for commercial properties, high-end residential properties, and new development projects for over 30 years. As a full-service security and communications provider, ESCC offers a powerful combination of design, engineering and installation services as well as post-installation support to meet today's on-going security and communications challenges.