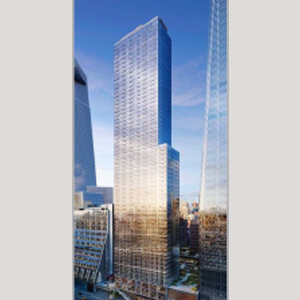 New York, N.Y – ESCC was tasked with updating and replacing all of the skyscraper's mechanical door entry locks with keyless entry systems at The Eugene featuring the latest in Mobile Access Technology. Touted as the tallest rental-only skyscraper in midtown Manhattan, The Eugene is an 844-unit, 62 Story, luxury apartment building located at Manhattan West, a 7 million square feet mega-development adjacent to Manhattan's booming Hudson Yards project. Says ESCC's President, Robert Horowitz, "ESCC's work at The Eugene is a prime example of how luxury residential buildings are acutely aware of the need to modernize their mobile access control technology to reflect the increasingly mobile demands of today's luxury apartment resident." Mobile Access Technology for Today's Sophisticated Resident Acting in a hardware installation capacity, ESCC is currently replacing The Eugene's hundreds of mechanical locks with remote access technology, keyless entry systems and, notably, ESCC's Mobile Access Technology for use with resident's mobile devices.
Says Horowitz: "ESCC has noted the growing demand for Mobile Access Control Technology in buildings such as The Eugene. Our implementation of the technology can not only help reduce lockouts, prevent unauthorized entry and streamline the updating of credentials, it is also fast becoming not just a resident amenity, but a standard expectation among residents and building management alike."
ABOUT ESCC ESCC has led the way in integrated security and communications applications for commercial properties, high-end residential properties, and new development projects for over 30 years. As a full-service security and communications provider, ESCC offers a powerful combination of design, engineering and installation services as well as post-installation support to meet today's on-going security and communications challenges.