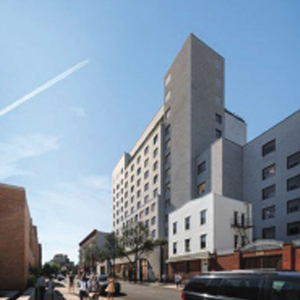 Brooklyn, N.Y – ESCC has been selected to design the entirety of the security and communications systems at what will become Brooklyn's latest co-living development built and activated by The Collective, the most pioneering developer of its kind.
London-founded and newly started up in New York, The Collective has secured the development rights to the property located at 292 North 8th Street located in the Williamsburg neighborhood of Brooklyn, NY.
Says Robert Horowitz, President of ESCC, "The project is by every measure a game-changer in apartment living in NYC. Co-living developments of this size are completely new in NYC and it will change the way people live, offering flexible accommodations and affordably priced solutions. Co-living presents a new and exciting alternative to the traditional housing market."
New Security Challenges with Co-Living Developments
To be sure, co-living by its very nature means a more open living environment replete with exceptional amenities such as food halls, gyms, coffee shops as well as a tenancy with a higher rate of turn-over than more traditional apartments.
To meet this challenge, ESCC is creating a complete design of the security and communications systems including CCTV, Access Control, Voice/Data/CATV Communications Cabling, Background Music and Back-of-House (BOH) Systems .
Says Horowitz, "ESCC is pleased to meet the challenges of this ultra-new style of urban living. Our technicians and security designers prove time and time again that we keep up with the most modern of residential and commercial developments in the country."
With The Collective set to begin operating its latest co-living spaces in the near future, ESCC is helping to ensure that the systems it designs for The Collective will keep both its members and operational teams safe, secured, and protected for years to come.
ABOUT ESCC
ESCC has led the way in integrated security and communications applications for commercial properties, high-end residential properties, and new development projects for over 30 years. As a full-service security and communications provider, ESCC offers a powerful combination of design, engineering and installation services as well as post-installation support to meet today's on-going security and communications challenges.