ESCC Provides Access Control Systems in NYC and Across the Country
ESCC has been a leading provider of state-of-the-art access control systems in NYC and around the country for over 35 years. From new residential and commercial developments to upgrading legacy systems in building renovation projects, ESCC's access control systems are designed to tackle even the most complex security projects from start to finish and beyond.
ESCC's 5-step approach to its access control systems projects always include the following:
Assess: Our system consultants meet with you to assess your residential or commercial property's individual access control needs.

Design: We prepare an in-depth proposal outlining the products and options that are right for your specific property type.

Install: Our installation team installs the system based on our custom-design plans while our project managers oversee the installation to assure it is done right. ESCC uses only industry-leading equipment that can be "future-proofed" in response to the ongoing advances in the communications and security industries.

Train: Our management consultants train system users on every detail of our easy to use systems.

On-going Service and Support: Our service technicians are on call 24/7 to provide remote and on-site service to keep your system operating properly during your warranty period and beyond.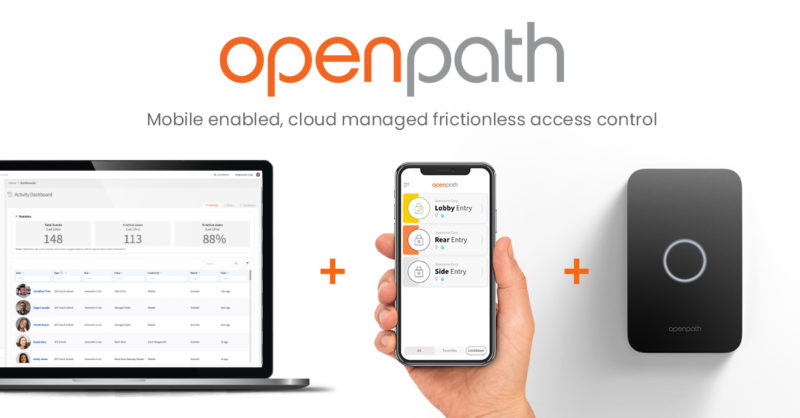 ESCC Partners with Openpath Mobile Access Control Systems to Keep Your Property Secure in a Post-Covid-19 World.
In an asset class that has been radically changed by Covid-19, real estate property managers are increasingly turning to touchless security systems for entry and exit inside their buildings. In response to this new paradigm, ESCC has partnered with Openpath to keep your property secure without the use of touch-based entry systems of the past.
With Openpath's Mobile Access Control Systems and motorized door hardware, occupants can access their spaces with the simple wave of a mobile device at nearly any point of entry – no physical touching needed.
Smartphones, notepads and even smart watches can be configured as the primary means of entry to both inside and outside a commercial or residential property.
With Openpath, property managers, resident and office tenants have the benefit of Openpath's Mobile Systems Key distinct features:
Frictionless access using your mobile phone.

Openpath has patented a unique "Triple Unlock" method to ensure the mobile phone works every time by leveraging three signals on your mobile phone to unlock a door (Bluetooth, WiFi and Cellular).

Furthermore, with Openpath's mobile technology you can keep the phone in your pocket or purse and just walk up to the door, wave your hand, and have the door unlock. This is the best of frictionless access and Openpath is the market innovator in this technology.

Keycards and fobs support.

All Openpath enabled doors and entries support the use of keycards and fobs as a credential method for unlocking doors. This means that all existing cards and fobs will work on your new Openpath system, plus you can issue new cards and fobs if you don't already have any. Openpath supports encrypted cards and fobs as well which gives you an even more secure choice for credentials as they cannot be easily copied or duplicated

No software to install, no servers to manage.

With Openpath, the software is cloud based which means you can manage your access control system from anywhere on any browser. You can see real time statistics and reports from anywhere as well. You don't have to get trained on how to use it as its easy and intuitive and you can integrate it with your HR and IT software to synchronize users making the day to day administration much easier.
For more information on how ESCC can secure your next development project or existing building with Access Control Systems using Openpath's Mobile Access Control Systems, contact one of ESCC's Security and Communications Representatives at: