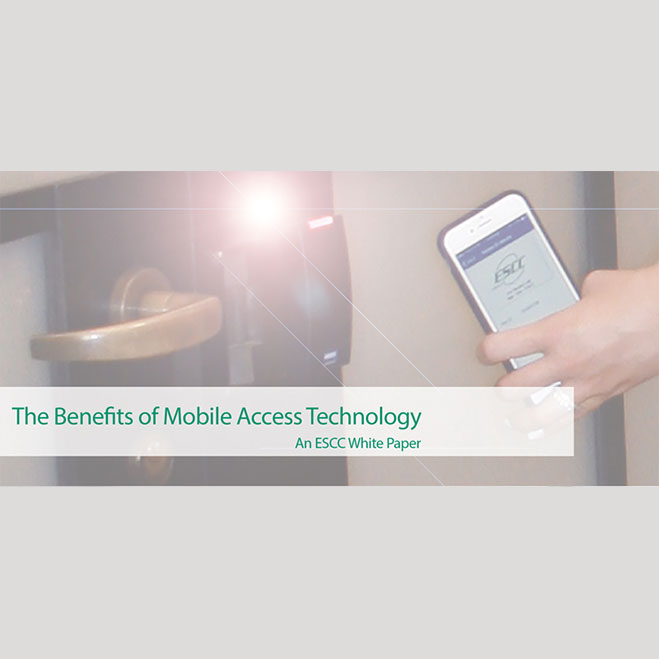 New York, NY – ESCC has released its latest white paper on providing leading-edge solutions to its customers who are looking for access control technologies that meet the demands of an increasingly mobile world. Utilizing the latest in Mobile Access Technology, ESCC is providing an effective way for its clients to access secured locations using only their smartphone or other mobile devices.
The technology, which is fast becoming a standard in high-end residential and commercial buildings, allows occupants of Mobile Access-secured buildings to simply wave their smartphone or mobile device in front of a point of contact to access their office, residence or common area (such as laundry rooms, workout facilities or business lounges).
Says Robert Horowitz, President of ESCC, "As mobile technology becomes a focal point of our daily lives it only makes sense that our access control technology is offered on these devices."
He continues, "With email, mobile banking and even payment technologies becoming commonplace on smartphones, it makes sense that our user's ability to access their secured locations be featured on them as well."
Sophisticated Security Systems for an Increasingly Mobile World
Utilizing Bluetooth Low Energy (BLE) Technology, ESCC's Mobile Access Technology can be downloaded onto almost any smartphone or mobile device with the use of an app exclusively designed to meet ESCC client specifications.
By choosing ESCC's Mobile Access Technology Systems residential and commercial building occupants can enjoy the following security benefits:
• All-in-One Access: All access credentials are on the end-user's phone or mobile device. ID cards, key fobs and physical keys can all be replaced with the mobile app.
• Faster Entry to Secured Locations: Because smart – phones and mobile devices are often already on hand, the need to fumble for keys, key fobs or identification cards is no longer needed for entry. Simply wave the device in front of the access point and enter.
• Reduced Lockouts and Lost Credentials: Cards and badges are much easier to lose than smartphones (and less prone to sharing). In the event that an end-user's smartphone or digital device is lost or stolen, their credentials can be remotely disabled and new credentials can be applied to the user's replacement digital device remotely by an authorized administrator of the account.
• Secure Entry at a Distance: Because ESCC's Mobile Access Technology utilizes Bluetooth Low Energy (BLE) technology, access to secured locations can be done from a distance making entry easier, quicker and safer for the user.
Mobile Access as an Amenity
Mobile technology is on the rise. Across all demographics, mobile users are not just spending more time on their mobile devices but also using them for critical services in their day-to-day lives.
According to recent studies, the average smartphone user engages their mobile phone over 3 hours a day with nearly 80% of this time spent using a mobile app.
To capitalize on this trend, landlords, property managers and even homeowners are looking to have mobile access technology available for their properties as it increasingly becomes the standard among renters and owners alike.
With Mobile Access as an Amenity, your property has a value-added asset that can attract new occupants, retain existing residents, or make your building more marketable to potential buyers or investors.
Click Here to Continue Reading ESCC's Mobile Access Technology White Paper (PDF)…
ABOUT ESCC
ESCC has led the way in integrated security and communications applications for commercial properties, high-end residential properties, and new development projects for over 30 years. As a full-service security and communications provider, ESCC offers a powerful combination of design, engineering and installation services as well as post-installation support to meet today's on-going security and communications challenges.