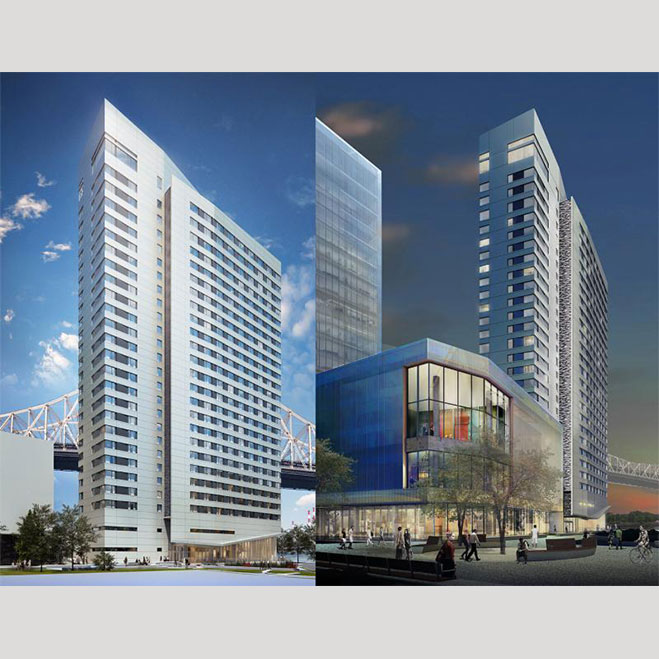 New York, NY – Cornell Tech has entrusted ESCC to secure their ultra high-tech student housing tower named "The House" at their newly opened, 2-billion-dollar computer, information and engineering-sciences campus on Roosevelt Island in New York City.
The 26-story, 352-unit student housing center designed by Handel Architects is the largest in the country – and indeed, the world –  to be developed using LEED, Net Zero and Passive House principles. Situated on nearly 2.5 Acres of outdoor green space, the building stands out in its energy efficiency with a near hermetically-sealed living environment that keeps the building cool in the summer and warm in the winter while using minimal additional energy to keep temperatures comfortable for its residents.
Says Robert Horowitz, President of ESCC, "The House at Cornell Tech implemented some of the most cutting-edge building standards in the world for maximizing power efficiency and reducing energy consumption. This translates to not just a better living environment for the residents but also lessens the carbon footprint of the building which is good for everyone. It was ESCC's honor to provide the building with a security and communications system that is worthy of such a technologically advanced establishment."
Advanced Security Solutions for an Advanced Building Design
ESCC outfitted The House at Cornell Tech with several different types of security, communications and tele-data systems including: Access Control Systems, IP-Based CCTV Systems, Apartment Entry Systems, Back-of-House (BOH) Telecommunications Systems as well as an A/V network in the common area of the building.
Says Horowitz, "One of the many challenges of student housing of this size and scale is having the most up-to-date technology to deal with the high volume of student and faculty move-ins that happen on an almost ongoing basis. Student housing is not lease-based, so the lengths of stay and the building occupancy can change dramatically depending on Cornell Tech's academic calendar. The House needed an access control system among other advanced systems that could provide an exacting level of detail and reliability for the building management and employees."
High-Tech Meets Streamlined Security
Indeed, access control was not ESCC's only challenge on this project. Because the very nature of student housing is different than that of a condominium or luxury apartment building the security and communications needs for The House are unique.
Amongst these is the high-volume of entry/exits to and from the building resulting in a higher demand for Apartment Entry systems to provide both easy access as well as reliable security for the residents and their guests.
Says Horowitz, "Even with the latest technologies available we at ESCC realize that there is a very human factor in effectively implementing these systems. Lockouts, missing identification and unannounced guests are just some of the many day-to-day issues that the facility will deal with on a larger basis than conventional residential buildings. By integrating our systems to work in unison with one another ESCC can help streamline the administrative process to resolve these issues as efficiently as possible."
Future-Proofing the Future of Student Housing
As graduate students and faculty fill the buildings at The House, many won't realize that their security and communications systems are constantly evolving as technology and the campus itself progresses.
"As The House is a new development the lack of legacy systems in the building make 'future-proofing' our systems not just a goal but a reality" says Horowitz. "As security and communications systems progress and as the campus plans to grow over the next several decades, we have the ability to advance with the building as technologies change over time."
As the Cornell Tech campus itself is projected continue to develop on Roosevelt Island until 2037, this sort of forward-looking thinking could go a long way to securing Cornell Tech, its students and its faculty in the years to come.
ABOUT ESCC
ESCC has led the way in integrated security and communications applications for commercial properties, high-end residential properties, and new development projects for over 30 years. As a full-service security and communications provider, ESCC offers a powerful combination of design, engineering and installation services as well as post-installation support to meet today's on-going security and communications challenges.