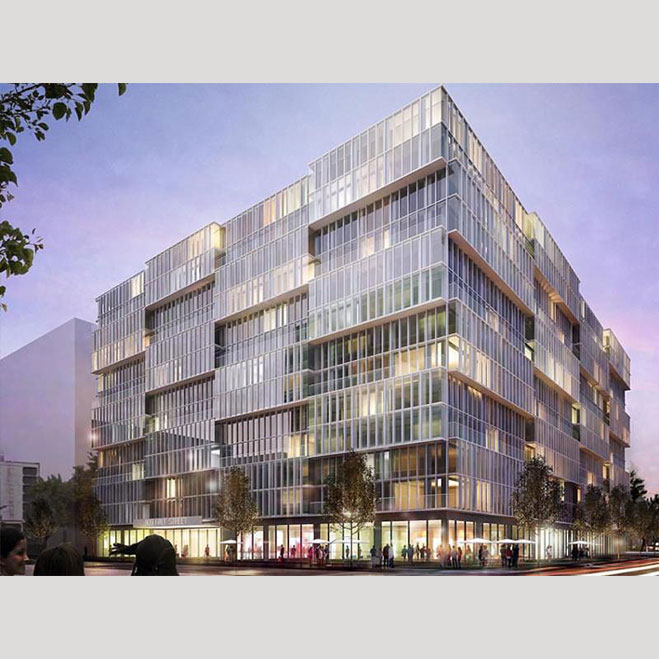 Washington D.C – ESCC has completed a fully Integrated Security and Communications Systems project at One Hill South in Washington D.C's rapidly growing Navy Yard neighborhood.
The 13-story 383-unit luxury apartment building designed by Morris Adjmi Architects is designated LEED Silver and features best-in-class, on-site amenities such as a basketball court, yoga studio, fitness center as well as a rooftop pool and green space.
Located just four blocks from the Washington Nationals baseball stadium, the area is fast becoming a 24/7, live-work-play destination with restaurants, shopping and outdoor recreational facilities opening in the former industrial section of the capital.
Says Robert Horowitz, President of ESCC, "The transformation of the Navy Yard area has been remarkable. As the neighborhood changes into a 24/7, live-work-play environment, more developments such as One Hill South are taking advantage of high-end amenities such as integrated security and communications systems to attract residents. ESCC's security and communications solutions help to keep these amenities secured and online on a 24/7 basis."
All-in-One Security and Communications Solutions From ESCC
ESCC provided the entirety of One Hill South's integrated security and communications systems including but not limited to: Access Control systems, IP-Based Video Camera systems, Elevator Access Control systems, Back-of-House (BOH) Communications systems, In-Unit Intercom systems, Keyless Entry for individual units, Perimeter Security as well as the design, integration and management of the installation of these systems.
Says Horowitz, "With a development of this size it was essential that ESCC managed every aspect of the build-out. With all of One Hill South's networks needing to be fully integrated in the building, ESCC was able to provide a full-service approach as the single-point provider for this development."
A New Neighborhood in the Capital
As the Navy Yard District continues to grow and develop, the 24/7 character of the neighborhood will continue to require fully integrated security and communications solutions for the residents and workers who live, work and play in the area.
Says Horowitz, "The continued residential development of the Navy Yards will necessitate fully integrated systems such as those provided to the residents of One Hill South. ESCC looks forward to meeting these needs by securing developments such as this project as the neighborhood continues to grow."
ABOUT ESCC
ESCC has led the way in integrated security and communications applications for commercial properties, high-end residential properties, and new development projects for over 30 years. As a full-service security and communications provider, ESCC offers a powerful combination of design, engineering and installation services as well as post-installation support to meet today's on-going security and communications challenges.